George Davison
1898-1977
Author Index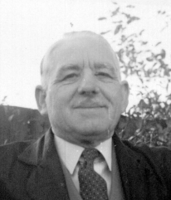 George Davison was born into a Christian household in North Shields, Northumberland. However it was into his 20's before he became a believer. After leaving school he served an apprenticeship as a Coppersmith in the local shipyard. His interests as a young man centred around horse racing and billiards. The night that he was converted he was on his way to South Shields to play in a billiards championship but missed the ferry that was to take him across the river. He was returning home and met a young sister who persuaded him to go with her to the gospel meeting of which he was no stranger. He was converted that night. From that time onwards his goal in life altered. Horses and billiards were given up and a study of the word of God took their place. The years of the depression saw him in and out of a number of jobs. But when out of work it only provided more time for study of the scriptures. He and other men in the same situation used to meet regularly to discuss the scriptures together. Often, because they had no money, they would walk to meetings 8 to 10 miles away and then back again speaking of the things of the Lord all the way.
It was in his early 30´s that he became a full time servant of the Lord. Evangelising in several gospel campaigns, open-air preaching and ministering the word to Christians. He laboured for the Lord throughout the British Isles being away from home for up to 6 weeks at any one time. He had an outstanding knowledge of the Word of God with an ability to see the truths and principles of scripture clearly. He had a special interest in the Tabernacle. its typical teaching, the Offerings and many Old Testament typical passages as well as a thorough grasp of New Testament teaching.
He was an able minister of the word but perhaps in later years was at his best in conversational bible studies when questions were addressed to him in rapid succession from all sides of the room and to each was given an equally rapid, succinct, scriptural answer.
There is an amount of his ministry available both as tape recordings of various meetings as well as written ministry. He wrote a few small pamphlets and contributed many articles to magazines. The best known of his own publications is an exposition of the feasts of the Lord in Leviticus 23 entitled "My Feasts".
For a number of years he was co-author of a magazine called "Precious things" along with Mr.F.A. Hughes of Walsall. These magazines contain most of his written ministry as well as that of F.A. Hughes another able minister of the word. (This ministry has been extracted by Mr. J. Pascoe, Chelmsford, England and is included here.)
In his later years he lived in Rotherham in South Yorkshire. Meetings in that area and elsewhere had the benefit of his help until illness hindered him from attending.
On Monday Aug. 5th., 1977 he entered into the presence of his Lord and Master whom he had served faithfully for most of his adult life.