Thomas Oliver
1871-1946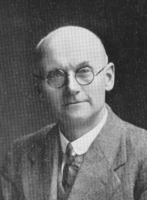 Tom Oliver was born in the rural district of Hawick in the Scottish border. Although of humble birth it was soon evident that he was very gifted intellectually. He left school at thirteen years of age and began to assist his father who was a shepherd. He then became interested in wool and what could be produced with it. Later he entered the firm of Wm Watson & Co. at Dangerfield Mills in Hawick and learned the art of weaving and designing of Tweed, moving later to be a teacher of power-loom weaving in the Border towns of Galashiels, Hawick and Selkirk. Taking distinctions in many subjects he was DSc Edinburgh, BSc London and had some fifty distinctions in different fields of science and mechanics connected with the textile industry for which the Border towns had some fame. To me a fellow-borderer of a later generation (my father worked with Tom at the mill) he was a mentor of the faith. I knew him well as a young man in the 1940´s when working for a short spell in the Galashiels area. He was a very able minister of God´s word having an excellent vocabulary, meeting him as I sometimes did in the Shiels of ´Gala´ he would converse in what is called the ´Soft Lowland Tongue of the Borders´ this was very sweet to my ears.
---
(Contributed by Willie Kerr, for many years the manager of the Scripture Truth Depot)
---
His was a mind which was interested in everything he came across, while visiting a Christian meeting-place in the Lake District of England alongside of which flowed a small stream, he was seen to be throwing small sticks into it, walking down a way then coming back and doing it again. When asked what he was doing by the children he told them that the stream could power a 3hp turbine. On another occasion a young Christian was very worried because he was to be tried in court for dangerous driving on his motor-cycle (against which there was considerable prejudice), he protested his innocence. Dr. Oliver, who was a well-known figure in the town, went to the site of the accident, did some measurements and some calculations and proceeded to demonstrate in court that the offence with which he was charged was physically impossible!
In his capacity as Emeritus Principal and Professor of Textile Technology he did a round the world tour in 1934-35 with the particular object of investigating and assisting the wool industry in Australia and New Zealand. I have some books by him on textile related subjects where he ensures that a Christian testimony is given. It is in this, his Christian ministry, that ´he being dead yet speaks´.
T. Oliver is represented on the CD by the magazine ´Scripture Quarterly´ which he edited and produced for three years during the Second World War while in his seventies.